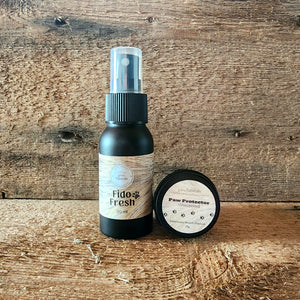 Pet Pack
Sale price Price $10.00 Regular price Unit price / per
Our Paw Pack is our pet line in trial sizes.  Not sure how your furry friend will react to the smell of our Fido Fresh or if they'll let you put our Paw Protector on their paws?  This is for you (and them)! 
Paw Protector (15g) is designed to soften and protect paws and paw pads year round - cold, snow and road salt in the winter and hot asphalt in the summer.  Apply as needed to pet before walk or hike. Be sure to massage a thick layer on pads and between toes.  All natural, non-toxic. 
Ingredients: shea butter, jojoba oil, beeswax, vitamin E, calendula

Fido Fresh (50ml) is to spray daily on your dog's bed. blankets and anywhere your dog lays to help eliminate odors. Great on bedding, in the car or wherever doggie smells linger!  
Ingredients: water, witch hazel, rosemary oil, lavender oil, cedarwood oil
Interested in the full size of these products?  Click here.